StayVigil is an emergency app, a panic alarm app, a safety app with an emergency or panic button which can help inform or alert your family, guardians, emergency contacts if you are faced with any emergency or unsafe or danger situations.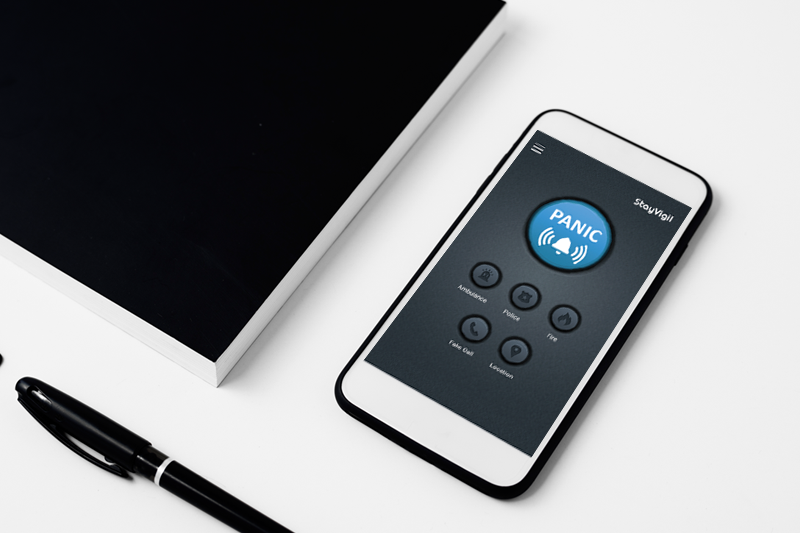 Once Installed, you can trigger an emergency alert to your Emergency Contacts by pressing the Emergency Button on the App or by pressing the Power button.
Once you have triggered an emergency alert to your Guardians (Emergency Contacts) StayVigil will :
1. Send an SMS to with your location details, google map position and complete location address. This can help them locate you faster in your hour of need or arrange for proper emergency service support (Police, Ambulance etc.). It will keep sending your current location positions every 10 minutes for next 30 minutes after you have triggered an alert. Thus ensuring any changes in location is tracked and informed to your emergency contacts.
2. StayVigil can automatically place a call to your contact, and if the first contact is not reachable then to your second contact and so on. You can also choose to switch off auto calling feature depending on your preference.
3. StayVigil will discretely take pictures from your front camera and back camera and email it to your contacts.
4. StayVigil will do an audio and video recording of the incident and send it to your contact. The photos and videos can help your emergency contacts understand what kind of emergency situation you are facing and accordingly take appropriate action.
FAKE CALL : On the screen is also a fake call button. It also has a fake call button (Green button), if you press it will do a fake incoming call and pressing the Red button will stop the call. You can use it while traveling, just to warn people off by doing a fake incoming call and talking on it, to show that you are in touch with someone or telling them where you are or with whom etc. or In case you think you'll need an excuse to make a quick exit from an unpleasant situation.
The SMS's, Pictures, Videos and Emails are saved only on your phone and sent to your emergency contacts. None of these details are stored or accessed by Revolux Solutions the creator of StayVigil app, your data (pictures, video of incident) is only shared by you with your personal emergency contacts.
You only need to have active mobile connection to send the SMS, while your data connection should be on to get your location address and send the email alerts.
The combination of video, GPS, and wireless capabilities makes the average smartphone a personal security device that's accessible to practically everyone. Whether you're walking home alone at night, or suspect an intruder has broken into your house, facing domestic abuse or violence, being attacked, being stalked, lost in an unfamiliar location, needing medical attention etc. here's an app designed to help.
StayVigil can be used by everyone (women, young people, seniors) whoever needs such an emergency app for safety.
Download it today from Google Play Store and share it with your friends and family.