Have An Idea?
Revolux Will Add Creative & Technological Magic To It.
Our experienced teams of innovative and leading developers and designers have the best technological and practical knowledge in the field of mobile app development. We don't just build apps; we build apps that will fetch you opportunities and launch creative innovative solutions.
We believe that ideas are powerful only when they are given proper support. We love challenges, we take half nurtured ideas and our skilled team analyzes the potential of your ideas against its ability to solve real-time world problems and market needs. Your  ideas are then nurtured with the best technologies and supported by effective skilled resources.  We do not just provide promises; we deliver the future in your hands, we deliver what we commit. If you have an idea that is worthy of being developed, we have got your back covered.
Submit your next brilliant app ideas, and let us be your partner to bring your best idea to life.
Our Development Strategy
At Revolux, we do not rush through the development process. The task of designing and development is delicate, important and we take extreme while we develop your product or solution. The core processes followed within an agile development methodology has been stated for your convenience.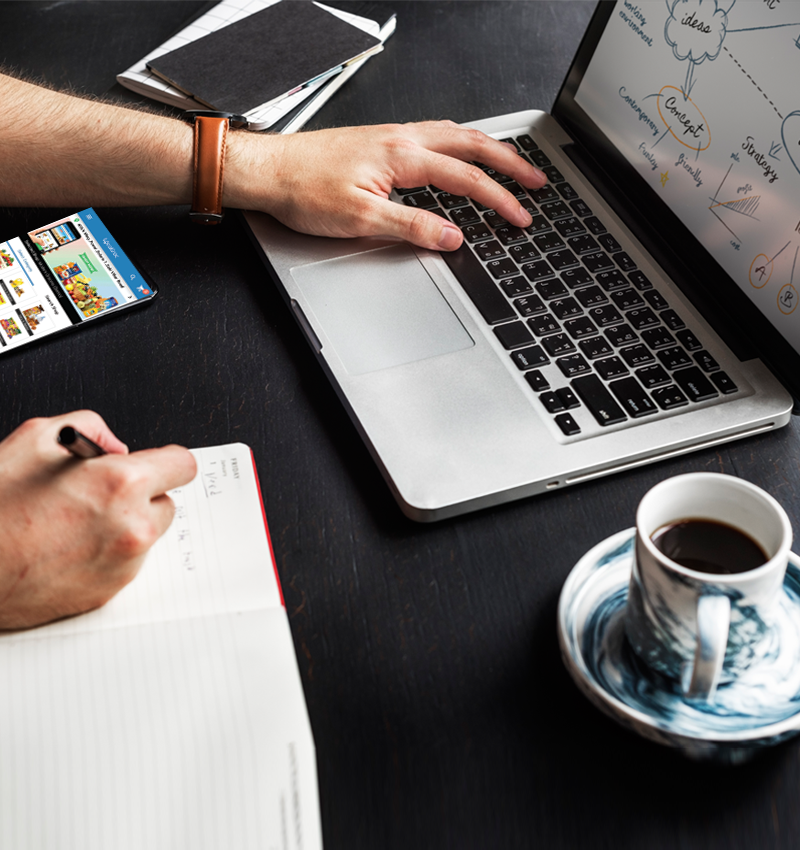 Ideation And Conceptualization
We assist you with in your evaluation of your ideas for market viability and advice from our experts. Our experienced and dedicated team of analysts put your ideas into various scenarios to ensure the success of the final product.  We check for the basic questions as to why the idea is efficient, what problems are you solving, what are its applications, will the final product deliver an effective solution.
Careful analysis is done, which results in filtering out the possible areas of misconception and errors. This process also provides the developers with an idea of resources that are going to be used in developing and designing your mobile app. We also provide effective improvement concepts to you so that you can then observe the points set forward and set right directions. The group of analysts works collectively with you to offer them the best industrial advice for your products
We welcome and encourage budding startups to come up new innovative ideas and let us be their partners to handhold them through this process of innovation and design. Revolux has the resources and provides a platform that can shape next generation entrepreneurs.
Designing And User Experience
We, at Revolux, understand the importance of user-centric technology designs and take immense care to design the right kind of designs and layouts for your product. Our user experience team conducts required user research to first understand who are your users and the problem we are trying to solve before we conceptualize the solution.
Our experienced UI/UX designers and branding experts work towards giving you the best possible result. App layouts and the designing should be smooth, easy and relevant to ensure proper user traffic is generated for your mobile app. This is what we have mastered over the years of designing intuitive and creative UI interfaces for mobile applications. We understand apt designs and architecture for your product and create UI designs that feature the best craftsmanship of our designers. The graphics applied are top-notch and optimal utilization of interface space is done.
We understand the importance of proper branding and your brand colors, logo and interface plays a key role. We sketch out the finest icons for your software applications. Our team of expert designers specializes in creating the required details with utmost precision. Our team of designers has required knowledge and experience to design, innovative and creative UI design layouts to give a unique feel to your mobile apps.
The Development Phase
This phase of development is intense and requires proper handling and this where our expert group of developers steps in. The task of coding is not just to write codes, but to write optimized codes for faster and convenient execution. Precise methods of development are used to create the app for the next generation. Our developers use the best and apt resources and codes to enhance the functioning and ensure the smooth running of the apps. Development updates are passed onto the clients as well to give them updates on the state of their vision. We do not manipulate the ideas neither do we change the agreed design of the app, so that the end product is close to how it was envisioned.
We specialize in the building of Android and iOS apps as Native Apps or Native Cross Platform Apps. Our squad of developers is trained to create any sort of apps on these platforms. We assign the task to developers that are specific to the task. This is done to ensure accountability and optimum development of the mobile app. At the end of this process, your idea has almost been completed into a reality. Final checks are done to ensure that the app is bug-free and everything runs perfectly. And now your mobile app is developed. But it is not yet ready to hit the store.
Testing, Debugging, Delivery And Maintenance
The completed product is now put into some rigorous cases to duplicate the events that happen in the real world. This process brings out the chances of optimization or improvisation in the app. The errors, if found any, are debugged and eliminated.
The final product is delivered to the client at a reasonable cost and within the discussed time limit. We also provide distinguished security to your apps to prevent them from future attacks. All the apps developed have security features. Some apps that require transactions to be done are equipped with latest encryption technologies to validate your transactions. We care about your privacy and no data is released in any forms.
Delivering the product is just the beginning of the work. We take the duty of providing regular maintenance checks and provide the client with the statistical output and data regarding the app.  We also train companies and enterprises in providing the operational knowledge on the mobile app. We also provide App Maintenance and Development Support services, so that you can focus on your business while we take care of the ensuring that the App always stays stable and remains updated with new features as you grow your business.
Want to turn your idea into a real project? If you are Start-up, SME or enterprise, we've got you covered.
Why Is Revolux Solutions Best In Terms Of Mobile App Development?
Mobile App Development Services
Revolux solutions cater various services and utilities for your mobile apps that help in ensuring that your mobile app gets considered and reaches the spotlight.
Android App Development Services
Revolux solutions are equipped with the best Android developer team who specialize in developing and designing apps that attract good traffic to your app. Our dedicated team of developers ensures that the apps created have great output and serve for the productive cause of the clients. We provide services like cloud data storage, secure transactions, real-time data analysis, better designs and layouts and a lot more.
iOS-Based App Development Services
Apple app store has a ton of procedures to comply to before you can add your app in the store. But do not panic, Revolux Solutions will ensure that your app gets featured and get proper coverage in the App Store. Our team of developers understands the criteria and requirement to carry out the procedural works for you, while implementing high-end security, cloud-based features, efficient transaction panel and best database support for your apps.
Cross Platform App Development Services
We build the best Cross Platform Native Android and iOS applications that give the benefit of a single code base, yet utilize the full capability of native Android or iOS applications. If your requirement is to have a single code base for developing your iOS and Android Applications, cut down your development cost & maintenance cost in lieu of some performance go ahead with our Cross Platform App Development Services using  technologies like NativeScript.
Want us to service your mobile app developments?
Plan on building the next revolution and taking over the mobile app industry?
Convey your idea and we'll analyze its potential.
Customer Testimonials
We encourage everyone to come up with their ideas and establish firm roots with their Mobile Apps.
I'm extremely happy with the work Revolux team did for Snapper. Their techical expertise, project management, communication and delivery capabilities can be counted amongst the best I have experienceed. These guys are awesome and have worked on my DAPP (Distributed Mobile App) and couple of my Blockchain based ICO Portal Development projects in tight deadlines. I have engaged them on several projects since over a year and my experience has been really good and there is no doubt I will continue to use their service and commend their partnering approach to software development.
It has been 2 years we have been working with Revolux for our various app and portal development projects and we are happy with this long term with Revolux. They deliver what they commit while ensuring we met our business goals. They have sucessfully devliered our iOS, Android and Web Portal development projects for our hospitals and I'm happy to recommend them as a development service partner.
We have been truly impressed with the quality of Revolux's work. Revolux has both expereince and collaborative approach to help create increadible cross platform mobile apps and digital marketing for my client projects. We have been working with them for over a year and they have helped in projects right from idea/mockups to revenue in 3 months for some projects. The speed and quality Revolux provided was essential for our Smart Home/Office customers. I would highly recommend Revolux to anyone building a cross platform mobile/web apps for startups or established businesses.
Revolux was able to complete my web development project exactly the way I wanted it, after I had previously engaged two companies who failed to deliver project even after 1 year. Luckily I found Revolux through a reference and they delivered professional quality work on time at the right price for a small medium business owner like me. I find them to be a professional, dependable team and I continue using their support.
Connect With Us?
We ensure that the process of development is risk-free and the final output will be as beautiful and productive as discussed.